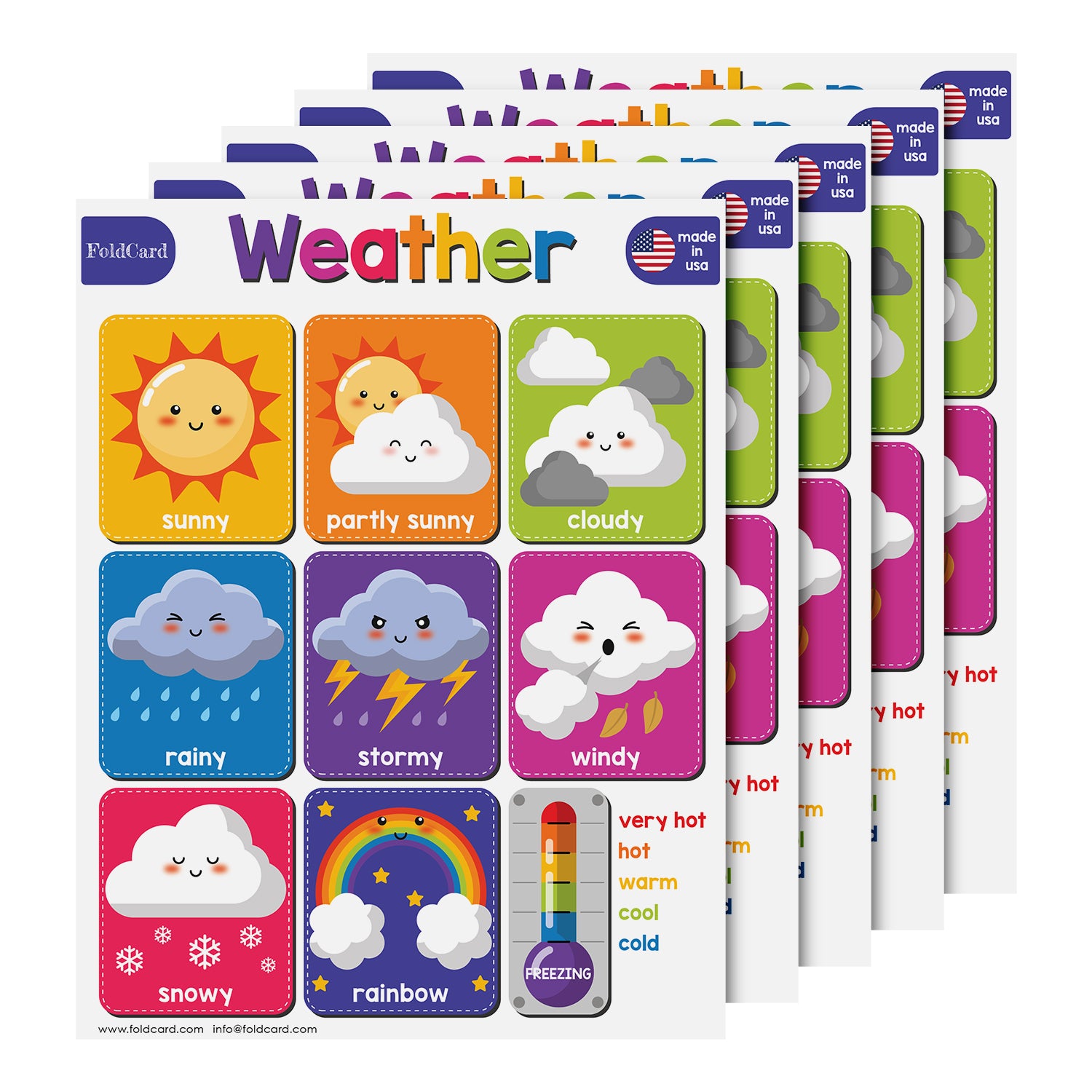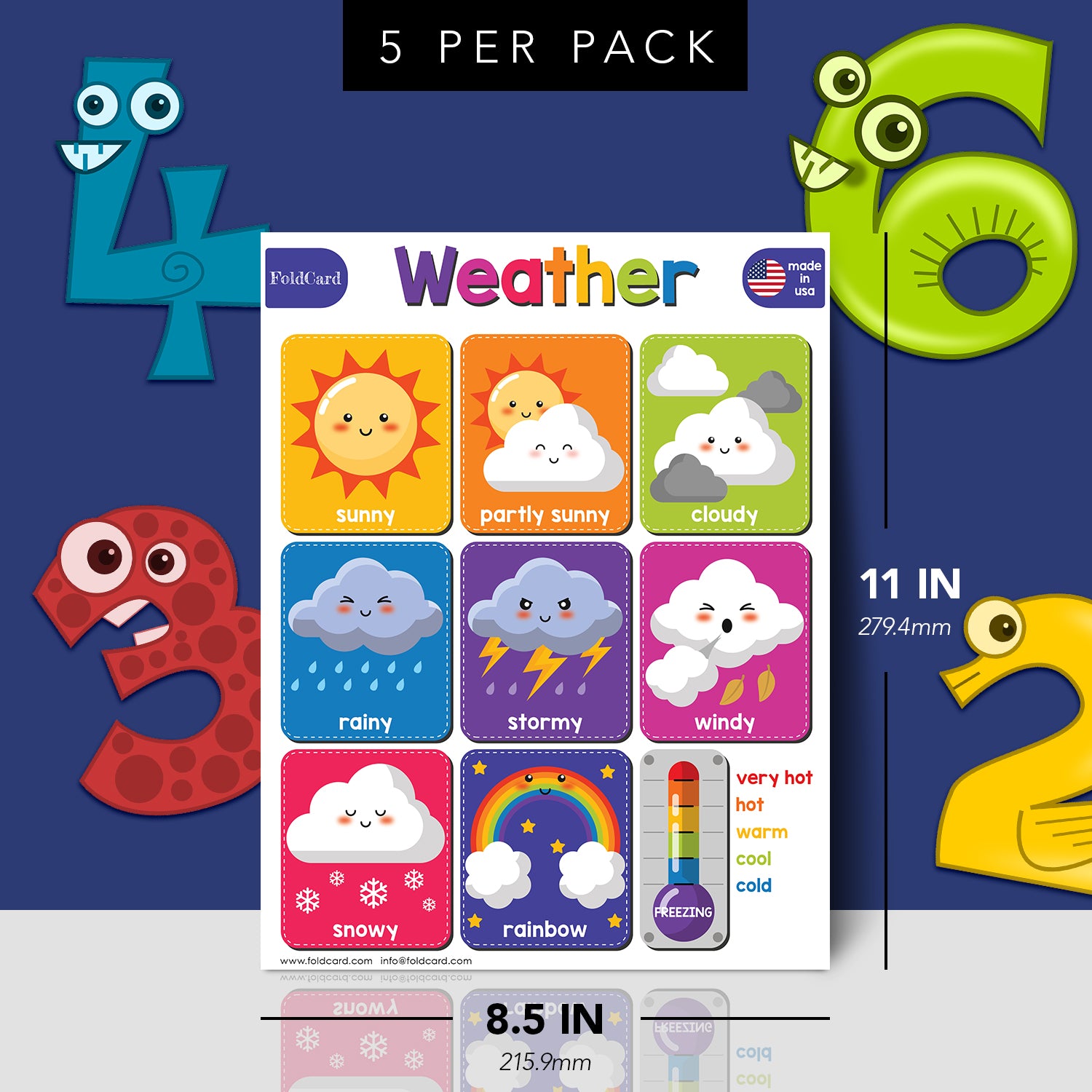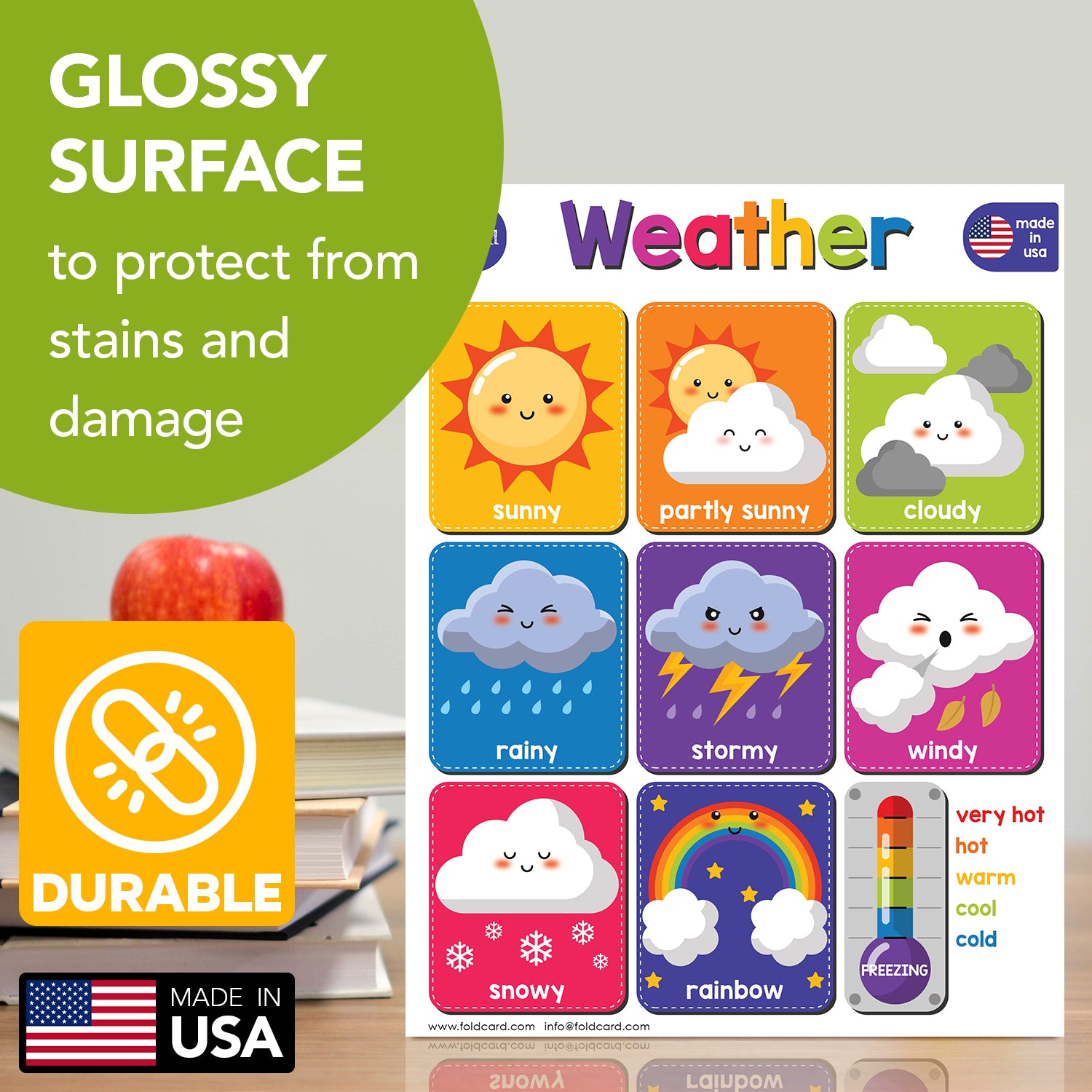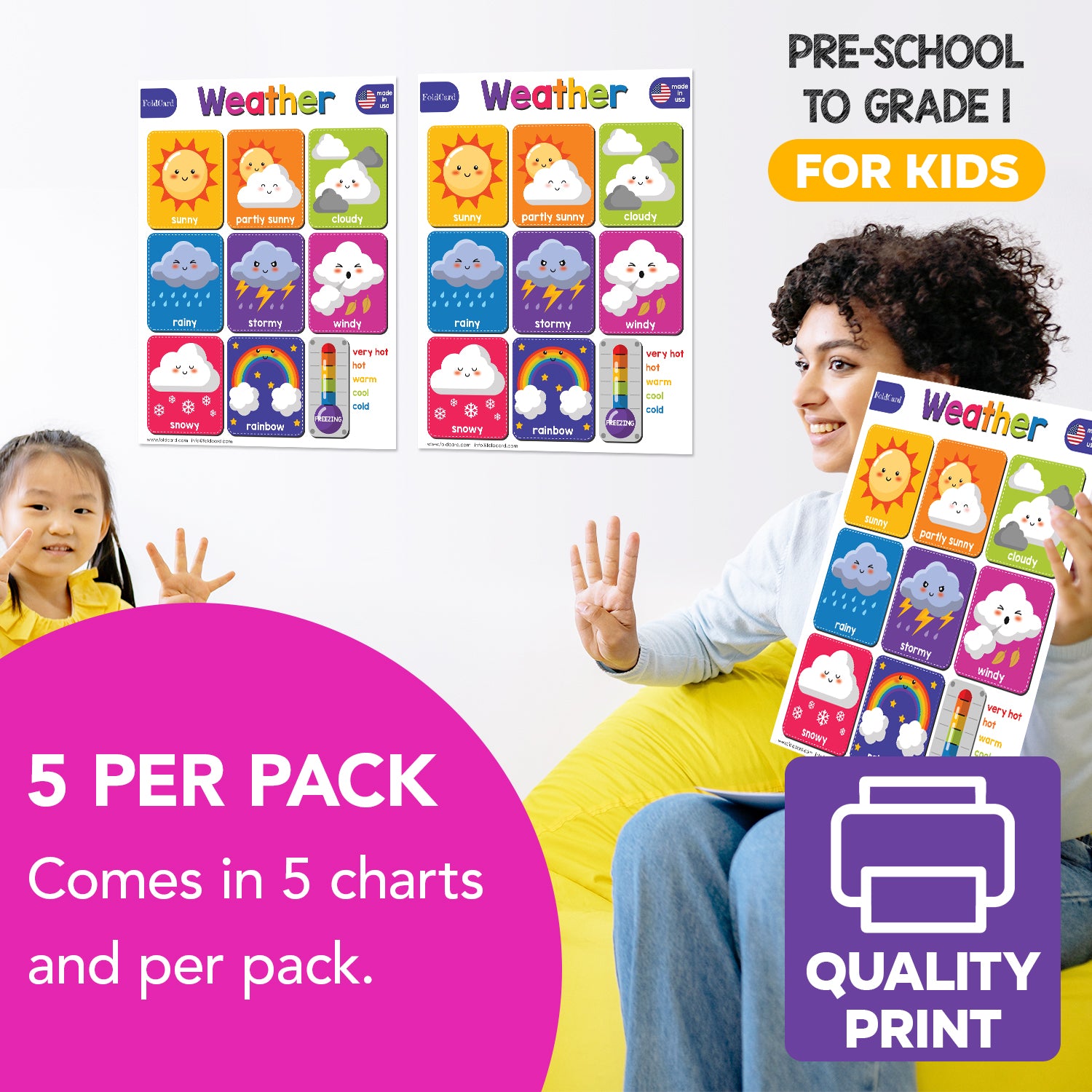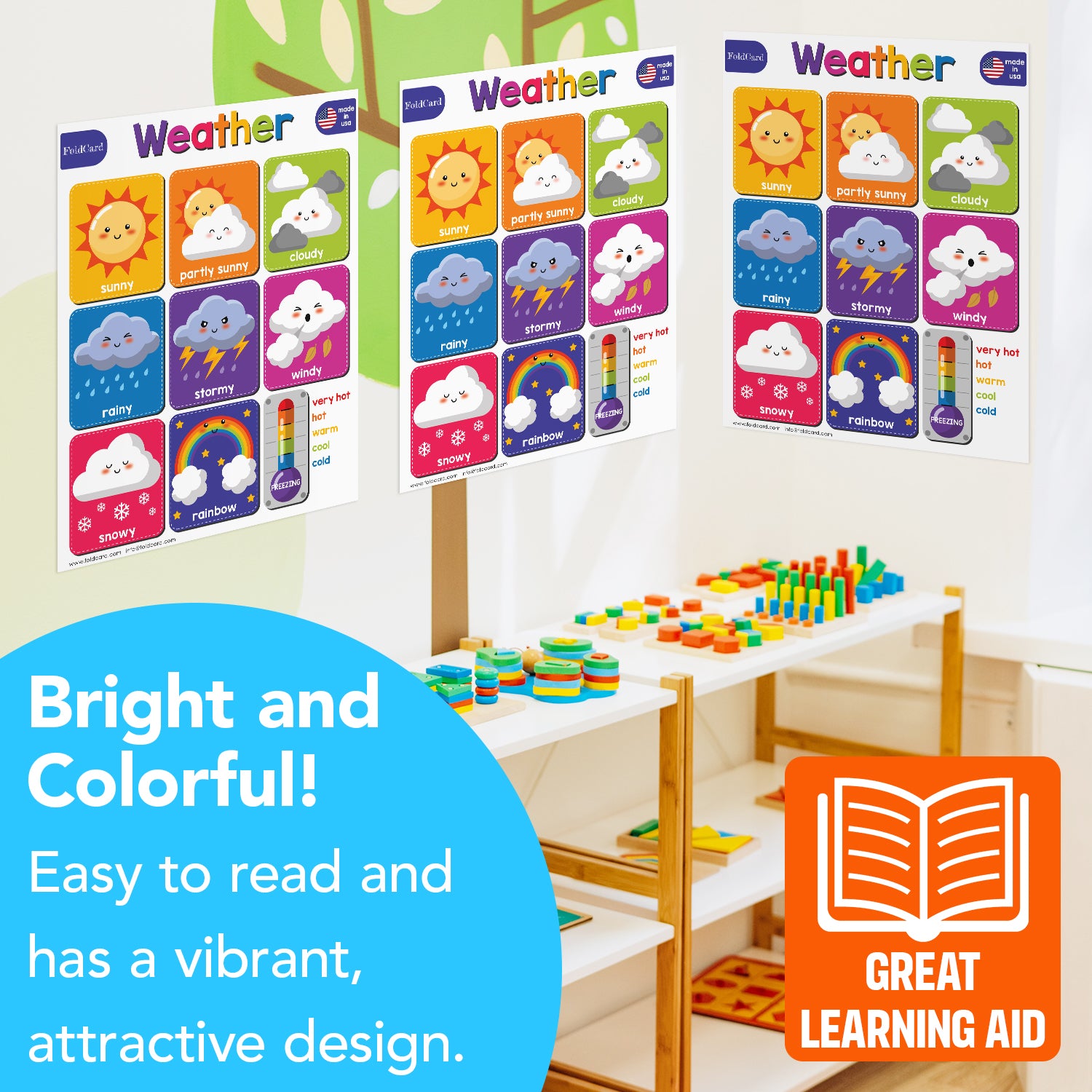 Bright Weather Chart | Preschool to Grade 1 | 8.5" x 11" | 5-Pack
Brand: FoldCard
Description:
Introduce your little learners to the wonders of weather with our Weather Chart for Preschool to Grade 1 Kids! This educational visual aid poster is the perfect addition to classrooms, homeschooling environments, daycares, and even homes. Crafted with care by FoldCard, this chart is designed to make learning about weather fun and engaging for young minds.
Features:
LEARN THE TYPES OF WEATHER: Our Weather Chart is a fantastic educational tool that helps children understand and recognize all the basic types of weather, including sunny, cloudy, rainy, windy, and snowy days.

THE PERFECT LEARNING TOOL: Ideal for toddlers, preschoolers, and home-schooled kids, this chart is an effective visual aid for enhancing their understanding of weather patterns.

SUPERIOR QUALITY: Printed on durable card stock paper with a glossy surface, our Weather Chart ensures longevity and protection from stains and damage. Whether you use it on classroom or homeschool bulletin boards, bedroom walls, or libraries, it will retain its vibrant appeal.

MAKE LEARNING FUN AND ENJOYABLE: The Weather Chart features a bright, colorful, and attractive design that captures every kid's attention. Learning about the weather has never been so enjoyable!

SAFE AND SECURED PACKAGE: We take special care in packaging the Weather Chart to ensure it reaches you in perfect quality and shape. The carefully boxed package also makes carrying and organizing a breeze.
Embrace the joy of learning with our Weather Chart for Preschool to Grade 1 Kids. Make your classroom or home environment more enriching and vibrant. Buy a pack of 5 today and let the wonders of weather come to life for your little ones!
Basic Info:
Size:

 

8.5" x 11"
Quantity:

 

5 per pack
Material:

 

Durable cardstock with a glossy surface