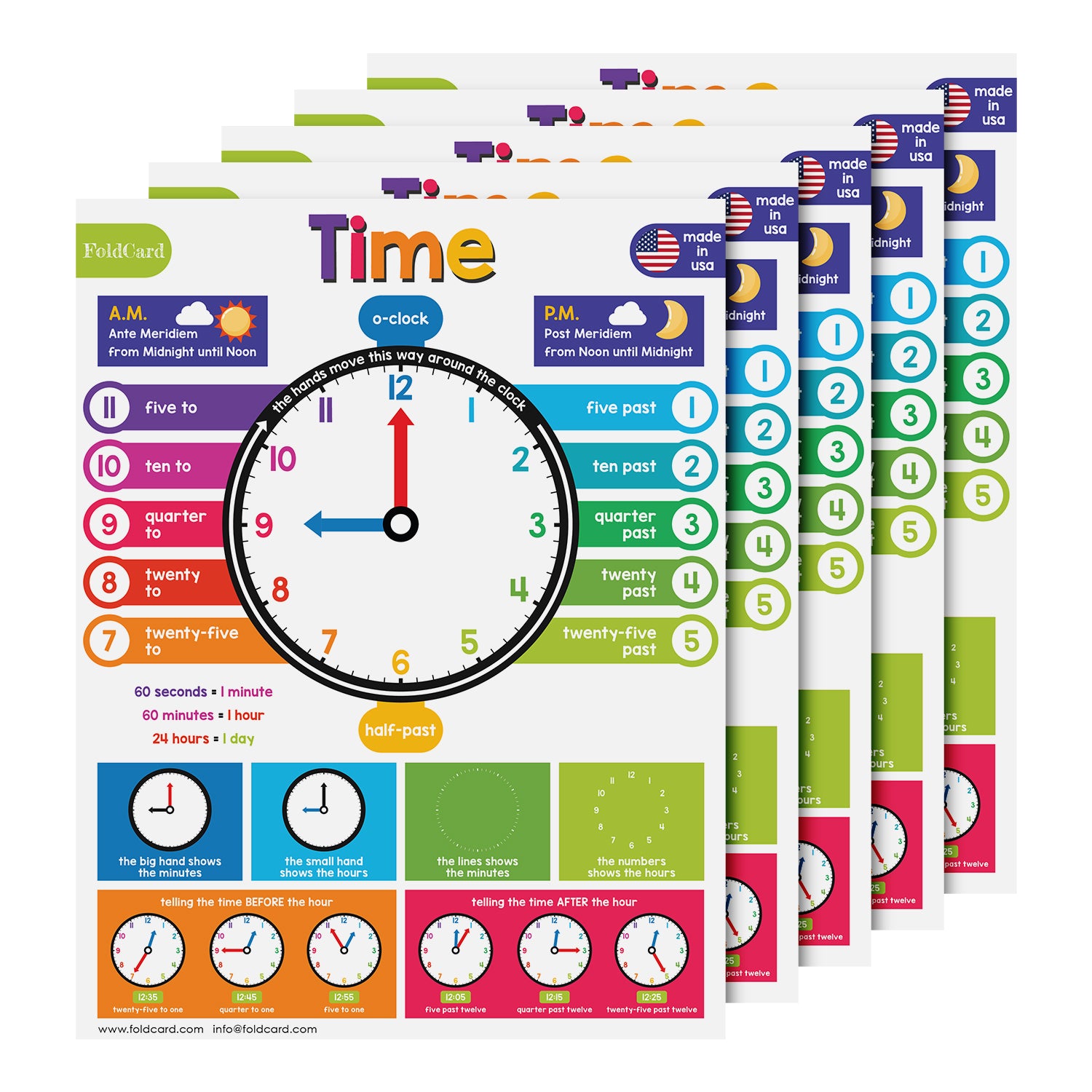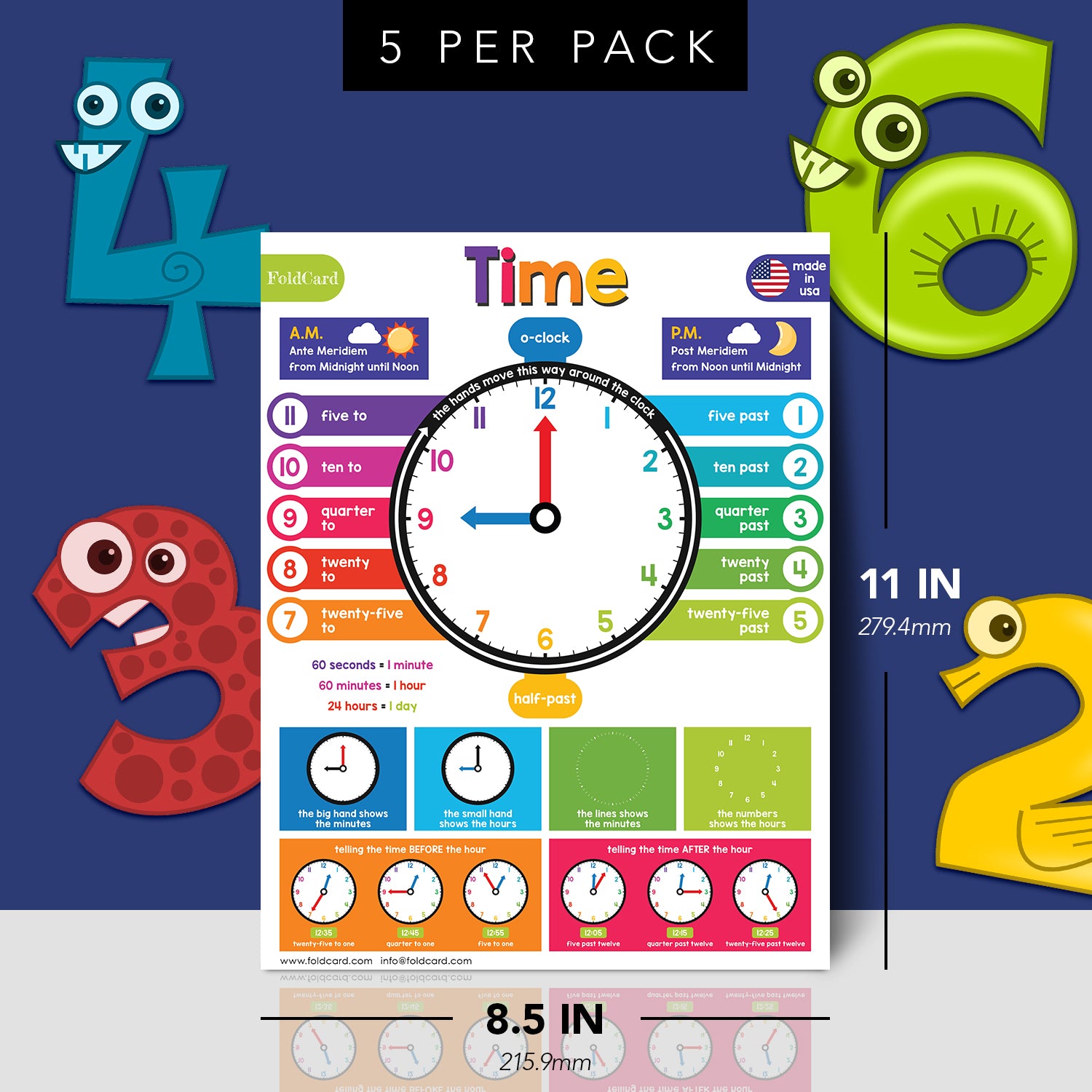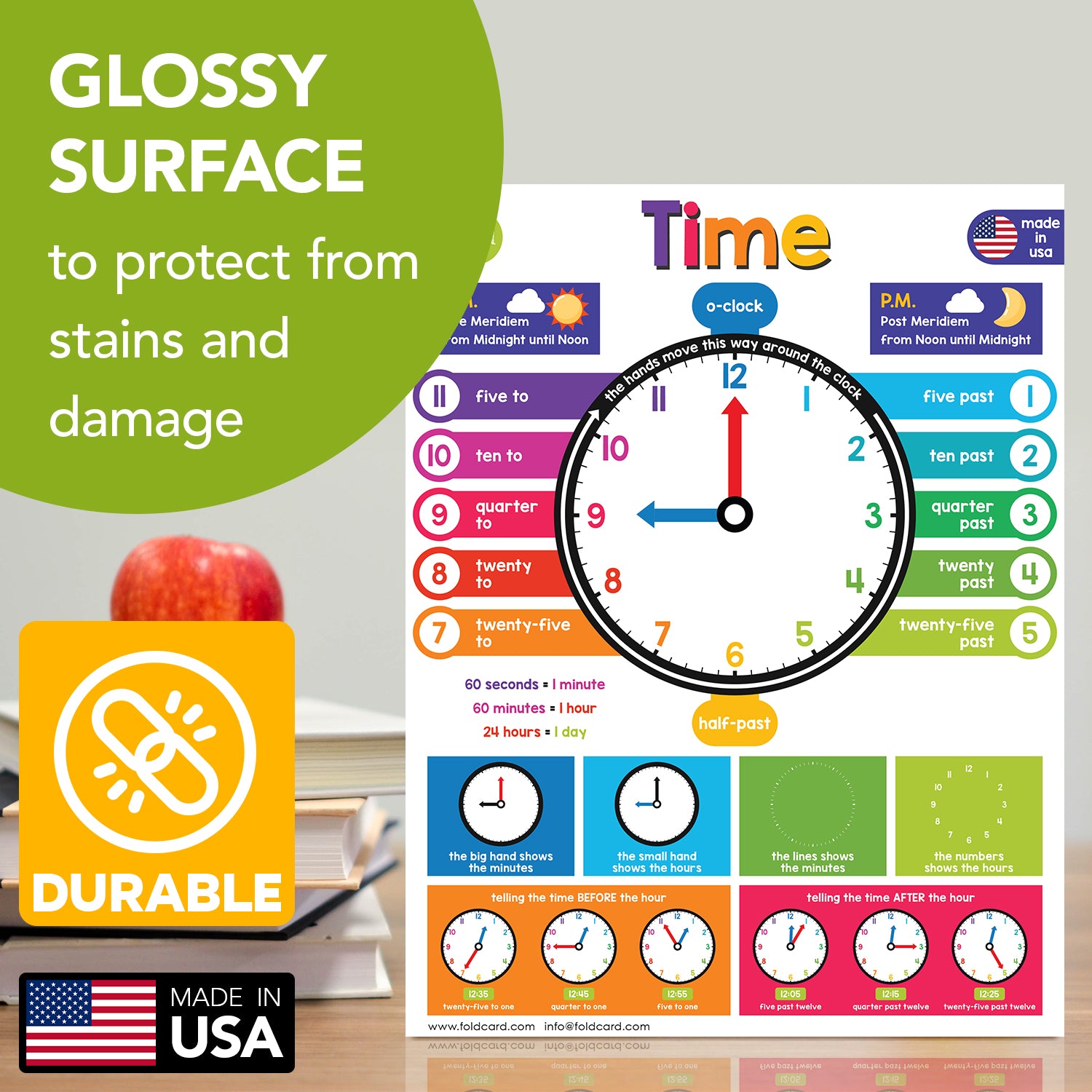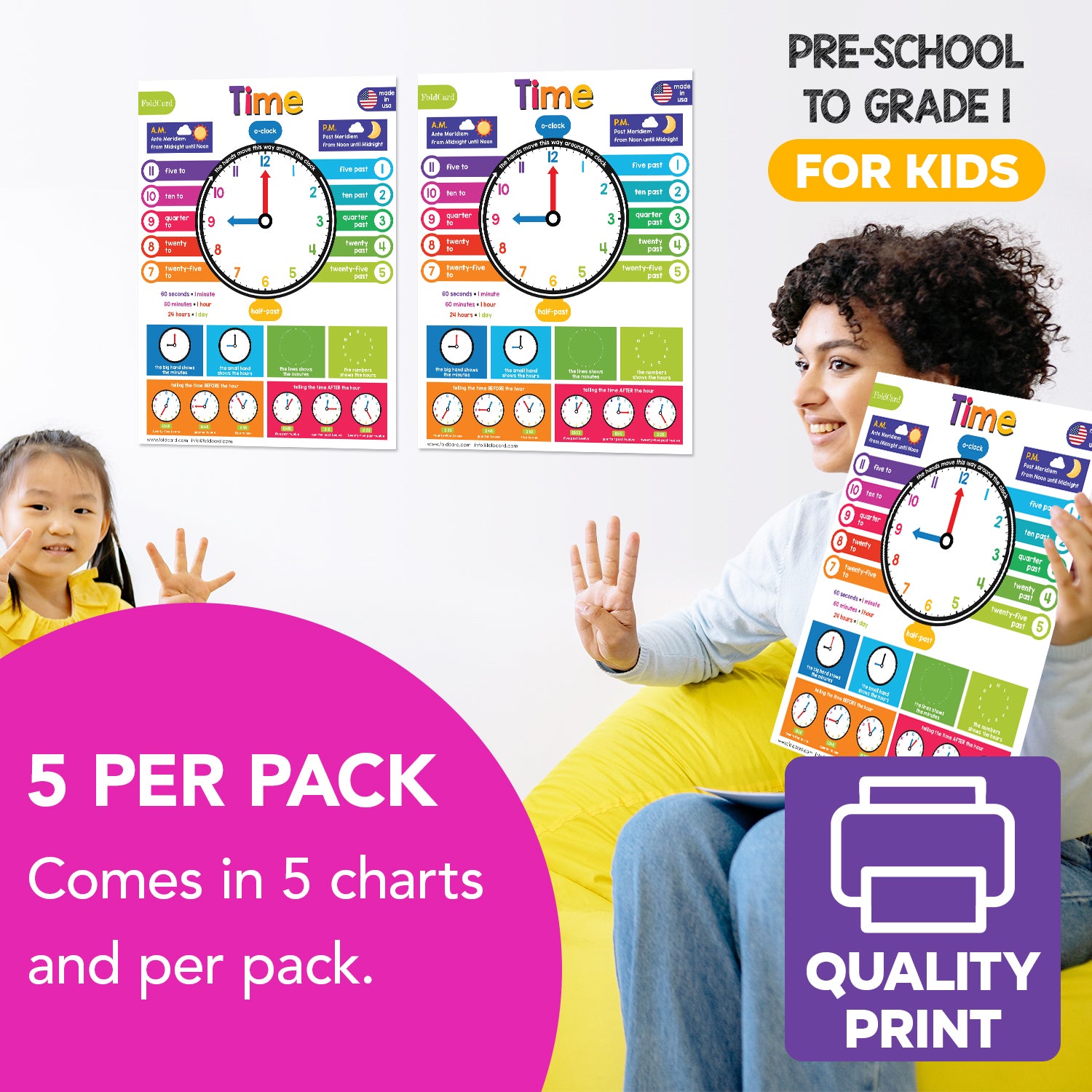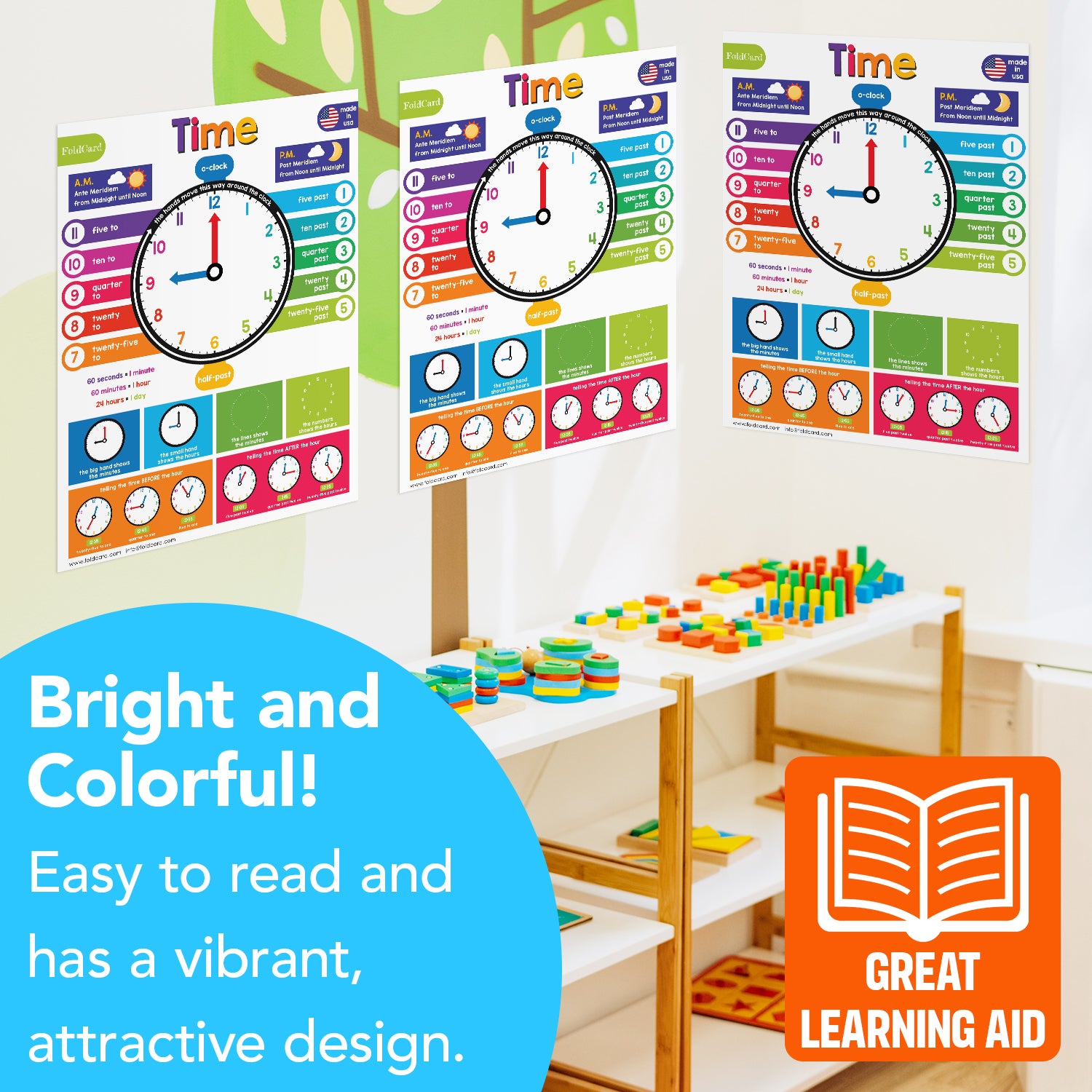 Colorful Time Chart for Kids - Learn to Tell Time | Durable Cardstock | 8.5" x 11" | 5-Pack
Brand: FoldCard
Description:
Introduce kids to the concept of time with our Colorful Time Chart for Kids! This educational visual aid is perfect for toddlers, preschoolers, and kids up to Grade 1. Designed to make learning fun and engaging, the chart is an excellent addition to classrooms, homeschooling environments, daycare centers, and bedrooms. Crafted from durable cardstock with a glossy surface, it ensures long-lasting use and easy wipe-off cleaning. Learning has never been this enjoyable!
Features:
A great educational tool for teaching kids how to tell the time. Our Colorful Time Chart helps kids grasp the basics of telling time in a simple and engaging way.

Perfect visual and learning aid for toddlers, preschoolers, and home-schooled children. Whether in a classroom or at home, this chart is a fantastic resource for teachers and parents alike.

Superior quality, printed on durable cardstock with a glossy surface for added protection. This chart can withstand frequent use and is resistant to stains and damage.

Bright, colorful, and attractive design to capture and hold kids' attention. The visually appealing design makes learning time enjoyable for kids.

Carefully packed in a secure box for safe delivery and easy organization. We take extra care in packaging to ensure the chart arrives in perfect condition.
Give your kids the gift of learning with our Colorful Time Chart! Order now and make learning fun and enjoyable for your little ones. Perfect for classrooms, homes, and learning centers. Add this essential tool to your teaching arsenal today!
Basic Info:
Size: 8.5" x 11"
Quantity: 5 per pack
Material: Durable cardstock with a glossy surface