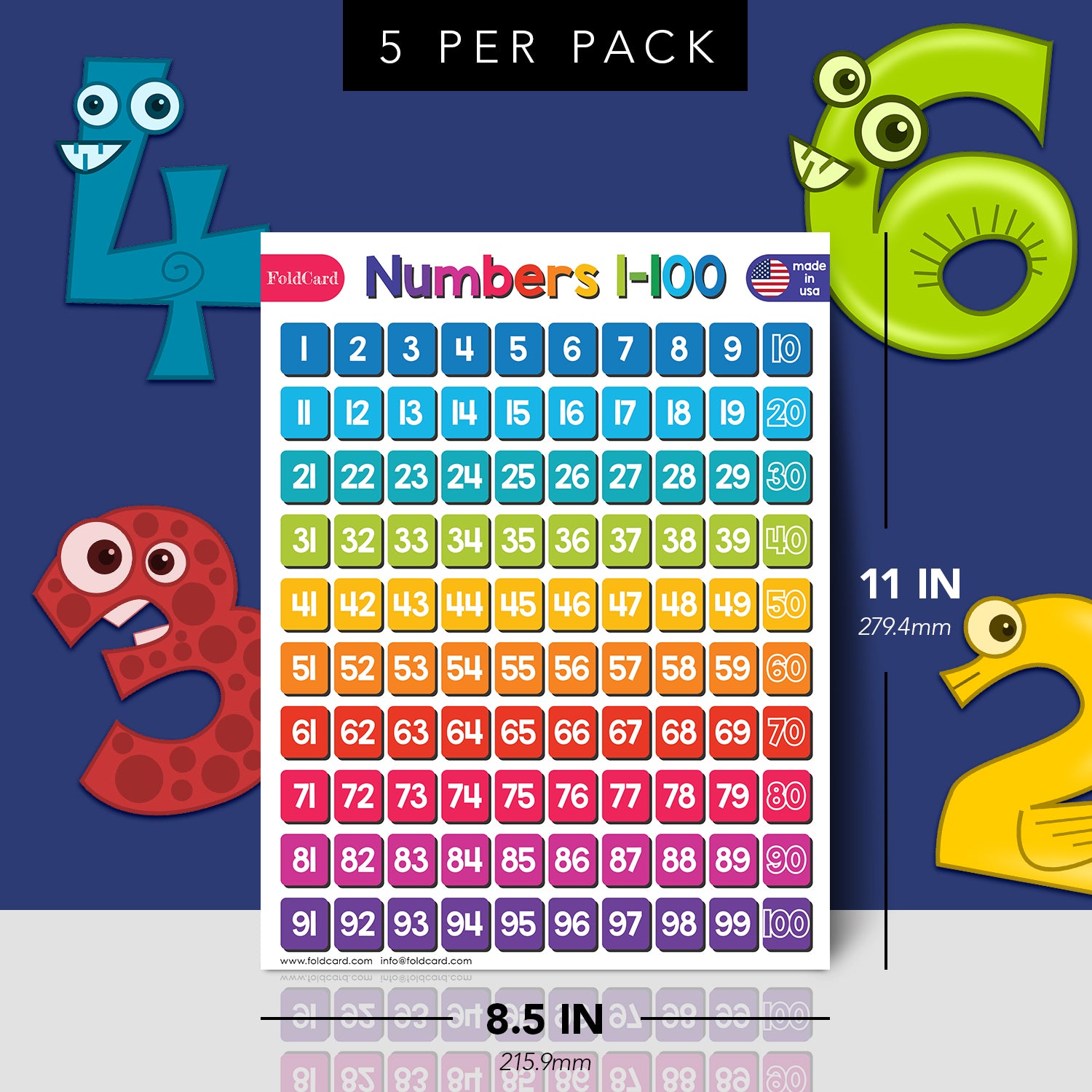 Numbers 1-100 Chart for Kids - Bright Educational Visual | 5-Pack
Brand: FoldCard
Description:
Teach basic counting skills with our Numbers 1-100 Chart, designed for preschool to grade 1 kids. This bright and colorful educational visual is the perfect learning aid for toddlers, preschoolers, and homeschooling children. Made from high-quality glossy cardstock, each chart measures 8.5" x 11". Ideal for classrooms, homeschooling environments, bedrooms, and libraries, this chart will make learning fun and enjoyable for young minds. Each pack contains 5 charts, making it a versatile and valuable addition to any educational setting.
Features:
Learn to Count from 1 to 100: Our Numbers 1-100 Chart is a fantastic educational tool for teaching basic counting skills to young learners.

The Perfect Learning Tool: Designed as a bright and colorful visual aid, this chart is ideal for preschool to grade 1 kids, as well as homeschooling and daycare settings, to make learning easy and engaging.
Superior Quality: Printed on durable cardstock paper with a glossy surface, our Numbers 1-100 Chart offers extra protection from stains and damage, ensuring its longevity in various learning environments.
Make Learning Fun and Enjoyable: Featuring an attractive design, this chart captures every kid's attention and makes the process of learning to count from 1 to 100 enjoyable and exciting.
Safe and Secured Package: Each pack of our Numbers 1-100 Chart is carefully packaged to ensure it reaches you in perfect condition, making carrying and organizing hassle-free.
Embrace the joy of learning with our Numbers 1-100 Chart. Order now to engage young learners and create an exciting educational experience!
Basic Info:
Size:

 

8.5" x 11"
Quantity:

 

5 per pack
Material:

 

Durable cardstock with a glossy surface