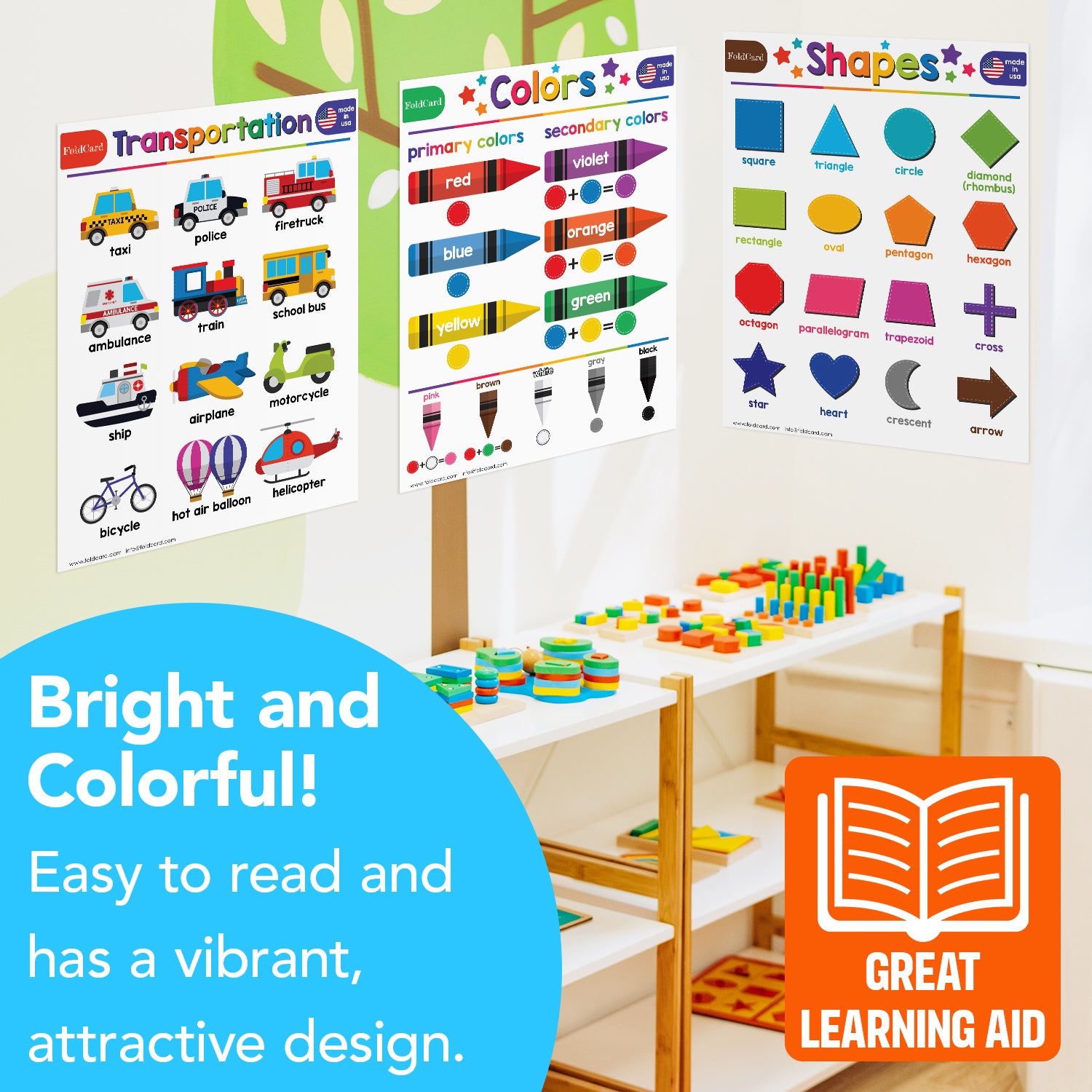 Beginner Bundle - 7 Educational Posters for Kids
Brand: FoldCard
Description:
Introduce your little learners to our Beginner Bundle - a collection of 7 educational posters designed to make learning fun and engaging for toddlers, preschoolers, and kids up to Grade 3. These visually appealing charts are perfect for classrooms, homeschooling environments, daycares, and homes. Crafted with care by FoldCard, our Beginner Bundle Learning Charts are the ideal learning tool for young minds.
Features:
LEARN THE BASICS: Our Beginner Bundle includes 7 learning charts covering Numbers 1-10, Days of the Week, Months of the Year, Weather, Shapes, Colors, and Transportation. It's a comprehensive educational tool to introduce young learners to these essential concepts.

PERFECT LEARNING TOOL: Designed for toddlers, preschoolers, and kids up to Grade 3, these charts serve as visual guides to easily grasp important concepts. Whether used in classrooms or at home, they are excellent teaching aids.

SUPERIOR QUALITY: Each chart is printed on durable cardstock paper with a glossy surface, ensuring they can withstand daily use and resist stains and damage. Use them on bulletin boards, bedroom walls, libraries, and more.

MAKE LEARNING FUN AND ENJOYABLE: With their bright, colorful, and attractive designs, our charts capture children's attention and make the learning process enjoyable and engaging.

SAFE AND SECURED PACKAGE: We take care to pack each chart in a box to ensure they reach you in perfect quality. Organized packaging also makes it convenient for storage and organization.
Embrace the joy of learning with our Beginner Bundle Educational Charts for Preschool to Grade 3 Kids. Enrich your classroom or home environment with vibrant learning decorations. Buy a pack today!
Basic Info:
Size: 8.5" x 11"
Quantity: 7 posters per pack
Material: Durable cardstock with a glossy surface